Delivery Kitchens
Our commercial kitchens are ideally suited for use as catering or central production kitchens, and for those looking to run delivery only food businesses.
Tell us more about your business
Thanks for contacting us!
We'll reach out shortly so we can understand your business and needs better.
SCROLL
Food Delivery Kitchens
Why rent a commercial kitchen when you can license a delivery kitchen that's prepped to make deliveries from day one. Our delivery only kitchens can come equipped with the kit you need to get you set up and trading fast. Foodstars sites are located in close proximity to popular business districts and residential areas, making them perfectly placed for food delivery. Many sites also feature dedicated delivery driver parking, rest areas and a central order processing centre where our team can collect food orders from your kitchen and manage the hand off to delivery drivers. All to allow your team to focus on cooking delicious food.
SCROLL
Flexible options, adaptable kitchens

Kitchens from 200 sq.ft+

Flexible terms of commitment

Kitchens ready to move into
How does a Dark Kitchen work?
We've put together a complete ecosystem of commercial kitchens, you just need to install the necessary equipment for your type of kitchen and start operating. No more works and renovation projects. With Foodstars, your operation starts in weeks, not months!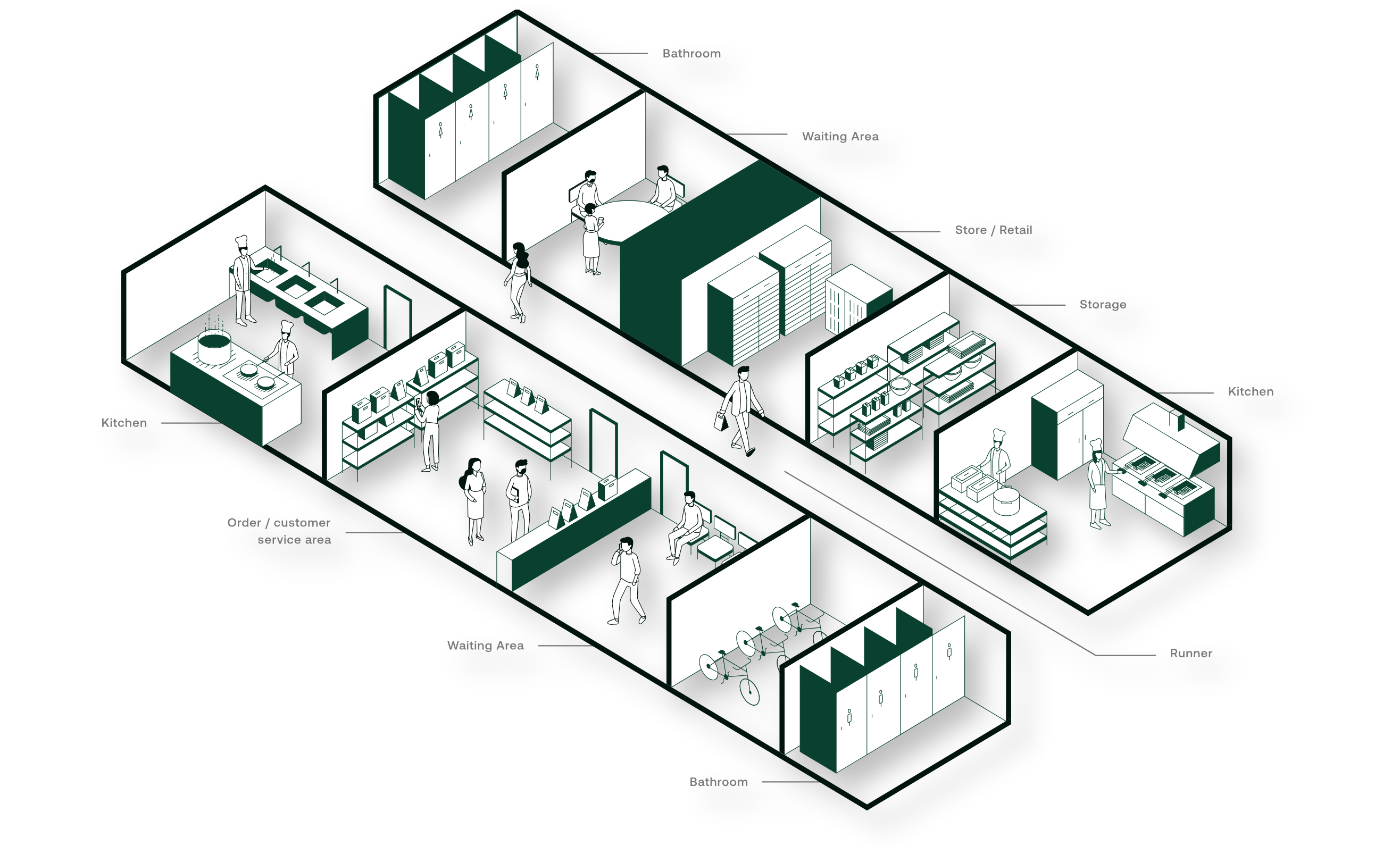 Infrastructure
We offer modern commercial dark kitchens and storage spaces designed so you can run your delivery business more efficiently while ensuring reduced costs.
---
Logistics and service
You can count on an on-site delivery team that takes care of all the logistics. That way, your orders arrive faster and without mistakes.
---
Facilities management
Cleaning, maintenance and security of the property are done by us. To give you more free time.
---
Own technology
All your delivery orders are consolidated on a tablet, which provides all the data to help you plan your work and supplies more effectively.
---
State of the art facilities
Our commercial kitchens are flexible to suit your food business, both in terms of licensing options and kitchen specs. They have been designed to meet the demanding requirements of commercial kitchen businesses. But we realise not every business is the same, so layouts can be adapted to suit the needs of our clients.
Double prep sink
Hand wash basin
BAFE-approved fire safety equipment
---
Extraction & ventilation
Natural gas & interlock system
Three phase electricity
Industrial boiler
Non-slip floor
Hygienic walls / skirting
Commercial high power lighting
---
Central food delivery order processing centre
Delivery driver check-in / management
Fire rated infrastructure & safety system
Loading docks for delivery / collection
Helpful community managers
Dedicated security
---
Chilled storage
Ambient storage
Frozen storage
Pest control
High speed internet connection
---
What makes us better than brick-and-mortar restaurants
Real Estate
Avoid paying huge rents for huge dine-in areas that you don't need to operate.
---
Employees
Work with a much smaller team while we provide onsite support staff to help you run more smoothly.
---
Investment
We have a much smaller startup cost so you can start seeing profits and results faster.
---
Weeks to launch
We handle all the complex construction, permits, and bureaucratic matters. Simply move in and start cooking.
---
To break even
In a dark kitchen, it takes less than 6 months with 10% profit margins on a €1M run rate to break even.
Get started in a CloudKitchens® delivery-only kitchen
Tell us a little more about yourself so we can put you in touch with the right people.
Tell us more about your business
Thanks for contacting us!
We'll reach out shortly so we can understand your business and needs better.